A restaurant receipt is a valuable tool for tracking information about a customer's visit to your place and in the hands of customers themselves. Receipts can be helpful when you need to return or exchange an item, or even when you want to remember the details of a meal you enjoyed at a certain restaurant. Using the ExpressExpense template for restaurant receipts will help you keep track of all the information that matters, including tax and tips, so you don't have to try to memorize it all. You'll also find some great features for recalling special requests made by your customers and creating reference links for each receipt. The receipt generator is also an amazing way to make more money and save more energy. The more information that is on the receipt, the easier it is for customers to use their receipts and exchanges correctly. That increases your chances of repeat business and positive word-of-mouth marketing, which are both excellent for your bottom line.
Receipts are a must, especially when you're running a restaurant. What is the need to have a receipt template for restaurant receipts? There are many reasons behind it.
TIP: Make sure you get their email address so you can send them receipts or marketing offers in the future.
Keeping track of all payments and knowing how much you make each day, week, and month is essential. Better bookkeeping will help you manage your expenses and plan your budget for the next period.
It helps customers to know exactly what they paid for.
With a professional-looking restaurant receipt template, you can choose between different types of receipts depending on your business needs. You can email it to your customer. It makes it easier to understand their bills and also helps them keep track of their spending habits. 
Lastly, if the customer wishes for any changes, he can simply make them on his bill before paying, which makes things more convenient for him and lighten up for you as well. 
A template is a digital document containing an empty form that you can fill in with your details. A restaurant receipt template is utilized to create a restaurant receipt that can be emailed, downloaded, and given to customers who have paid for their meal. There is also an option to print it. For a standard itemized restaurant receipt, it contains all the details that are usually required on a receipt: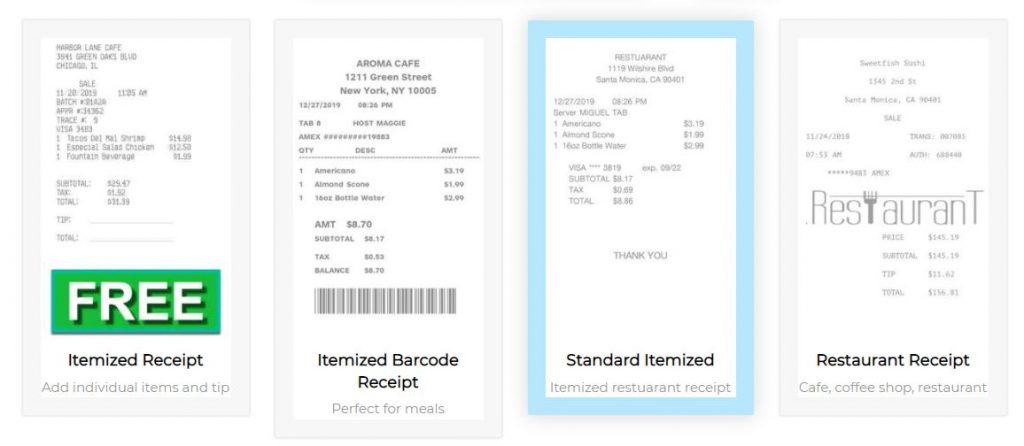 business name
business address
Business contact number
date of purchase.
time of sales transaction
name of server
Item number, name, and price
The mode of payment
Subtotal
Tax (if any)
Total
A "Thank you" message at the bottom of the receipt
For other receipt templates, you may customize them according to your preferences. You may add additional details, such as tips, marketing promotions, social media pages, a web page, or a barcode, at the bottom of the receipt. You can even add a logo to raise brand awareness for your company, and it's easier for your customers to remember.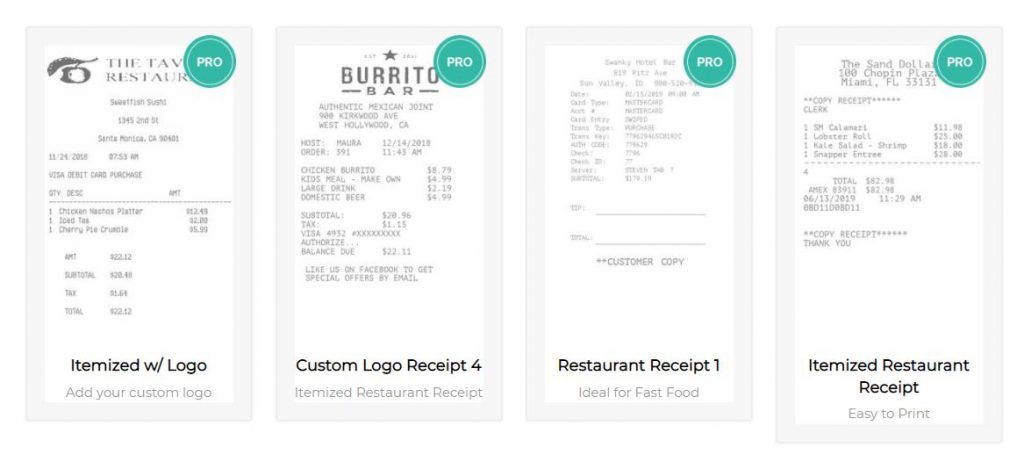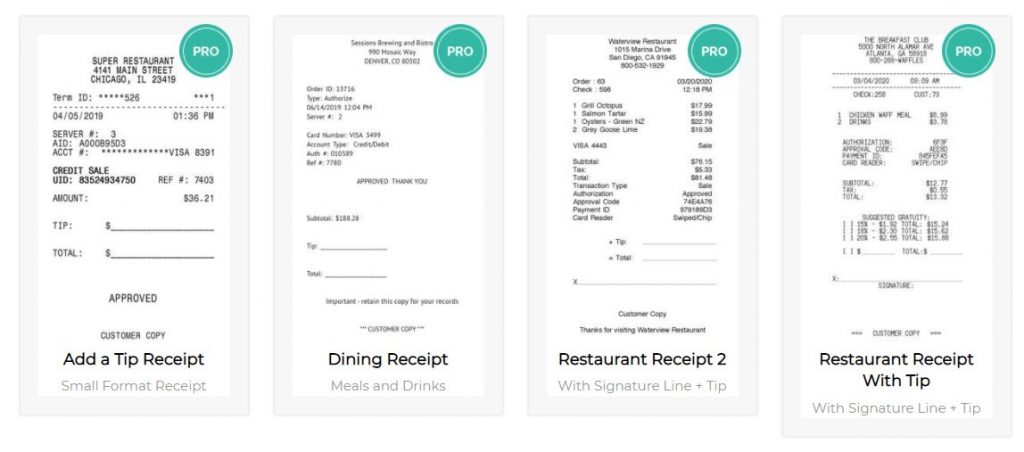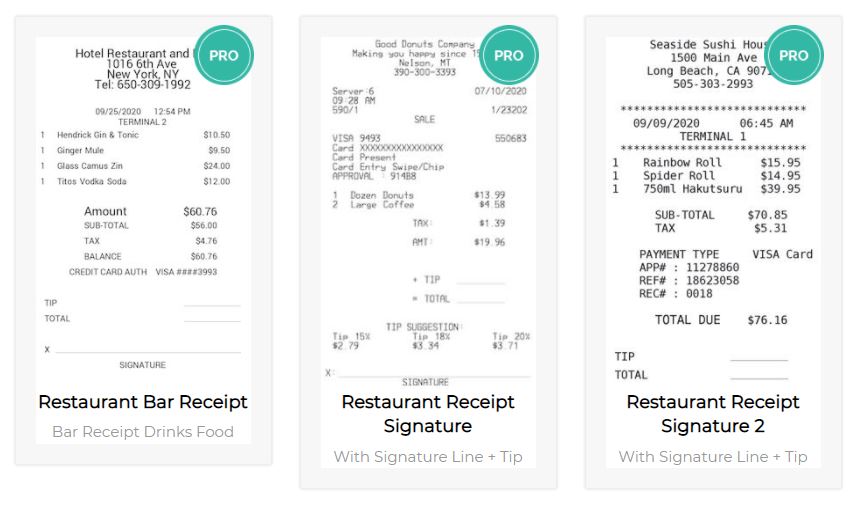 You may visit the FAQs page for further details.