Today there are a number of receipt making website and apps available for you to utilize.
Are you in need of a receipt maker to create a receipt that is lost or misplaced? Well there are many options available today for receipt makers on the web and app store. Let's go through and take a look at the top receipt makers that are out on the web and give you a look at the systems and talk about the advantages of each receipt makers and what they are each good at doing.
ExpressExpense – The Gold Standard of Receipt Makers
To start, let's take a look at ExpressExpense.com, the industry leader and largest and most capable of all the receipt makers out there. This receipt maker is considered the Gold Standard for receipt makers. It has over 50 receipt templates covering a wide range of receipt types. The interface is very straightforward and allows for easy data entry of receipt information. You do need to click the "Make Receipt" button in order to see the results of your receipt, but the system generates the receipt in less than 1 second.
Each receipt template has 5 different fonts you can select from. The receipt fonts at ExpressExpense are definitely the most high quality of any of the receipt makers out there. ExpressExpense has created font sets that are identical to the fonts used by the most common thermal receipt printers in the world. These receipt fonts are exact reproductions of receipt fonts you'd find on Home Depot, Target, Walmart and other receipts. This is truly a detail that is missing on other receipt makers.
ExpressExpense offers several free receipt templates available to anyone wanting to make receipts for free. In order to gain access to the rest of the receipt templates and remove the watermark on the receipts, you'll need to purchase a membership. Memberships are available starting at $9.99 (Standard – 20 templates) or PRO (all receipt templates) is available for $15.99. ExpressExpense often has discounts available during holidays or tax season. If you catch one of these discounts, it is a good idea to purchase the Annual membership to lock-in the savings for longer period of time.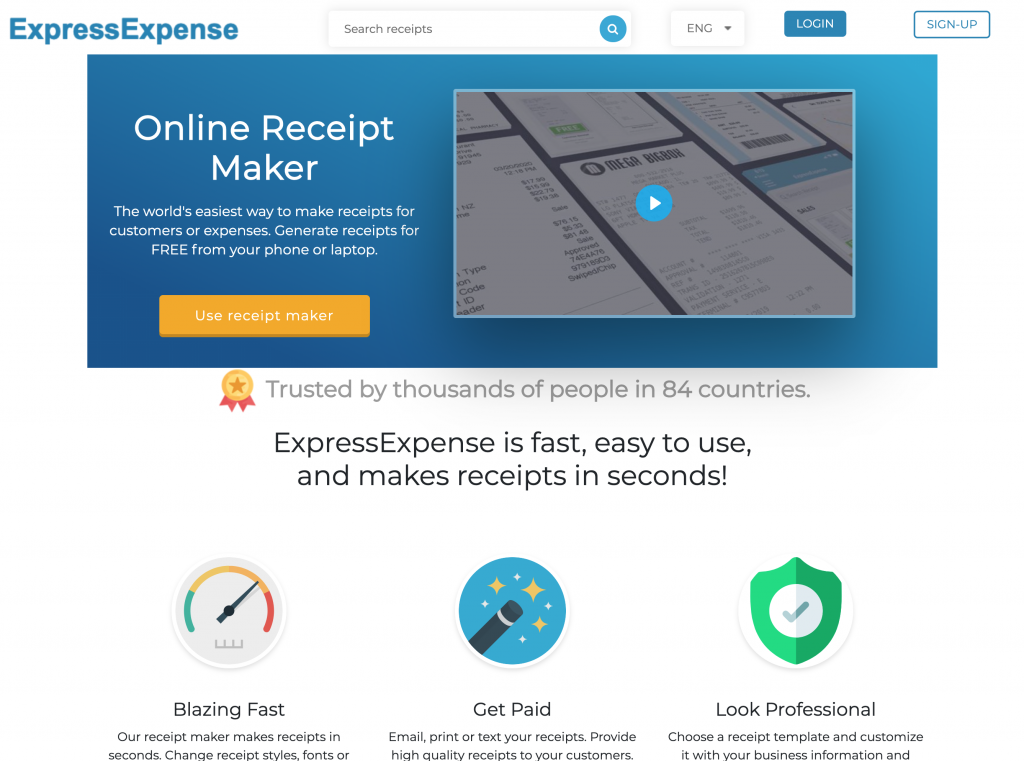 InvoiceWriter makes perfect hotel invoices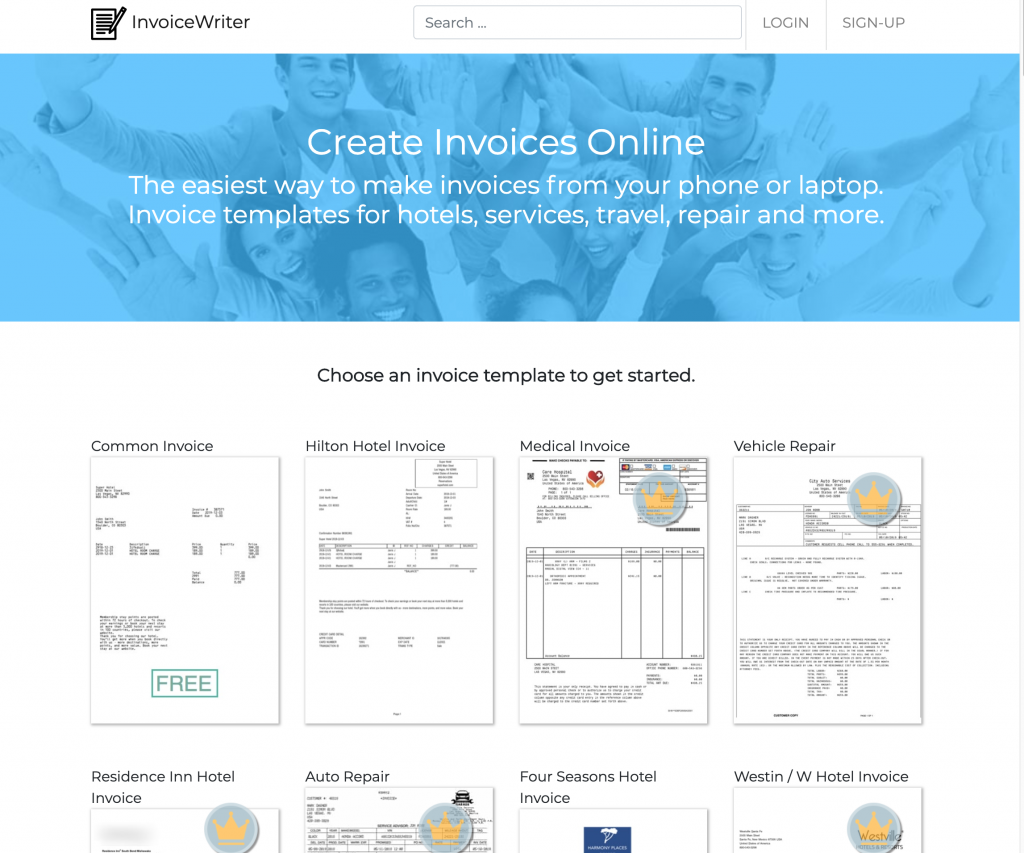 Next up is the InvoiceWriter.com website. This is also a very capable receipt maker and invoice maker. This site makes invoices for hotels, medical, auto shops and more. It also features a long list of receipt templates that are editable on-screen. These receipts are electronic (email or web) receipts that are issued by brands like Apple, Home Depot, Venmo or Verizon.
This tool is extremely useful for creating invoices for reimbursement of business expenses. For example, if you are reimbursed for your internet service but need to separate your personal account which includes several family phones and cable TV – this invoice maker can help. You can create a duplicate invoice for your cell phone provider and then easily create monthly invoices for the service you are wanting to be reimbursed for.
The system generates PDFs of the invoices you create which can be downloaded or emailed to yourself or others. These invoices are high quality and suitable for printing using any laser or inkjet printer.
When it comes to hotel invoices (guest folios) InvoiceWriter really shines. They have reproduced invoice templates for all of the major hotel brands and made them available for your invoice making purposes. These templates allow you to create a perfect copy of an invoice at any of these major hotel chains. Keep in mind each hotel chain also has many subsidiary brands which also use the same template.
Create receipts with MakeReceipt for less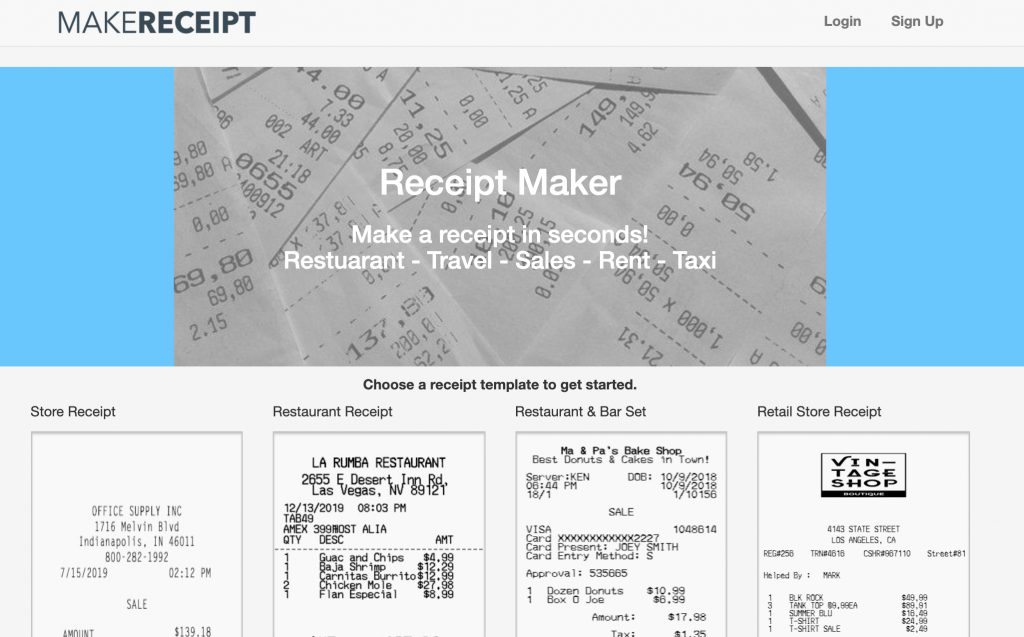 MakeReceipt.com is another excellent resource for making receipts. This site basically is a clone of ExpressExpense, but with less templates and a lower price point. To date, there are 26 receipt templates available on the MakeReceipt.com website. They span many styles of receipts: restaurant receipts, taxi receipts, rent receipts, cash receipts and more.
MakeReceipt is simple to use and does have some nice features. The receipt templates
There is also an iPhone/Android mobile app available for MakeReceipt receipt maker. It offers a free trial period where you can get full functionality of this tool for several days. Get the iPhone MakeReceipt App or the Android MakeReceipt App.
A Visual Receipt Template Editor – expenseFAST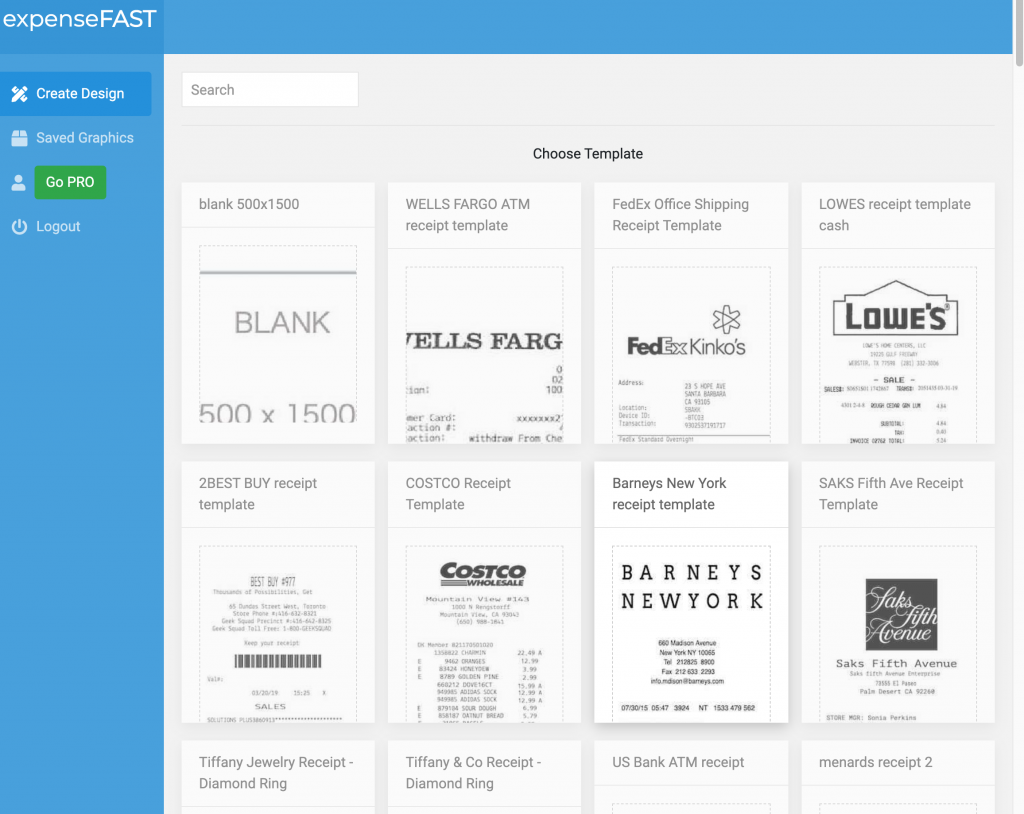 expenseFAST is a relatively new tool that has become available for receipt making. It is different than ExpressExpense or MakeReceipt since it is truly a template system and does not automatically calculate values like subtotals, taxes or receipt total. Think of it more of an image editor that happens to focus on receipts. There are currently over 100 receipt templates available on expenseFAST's website. They include:
ATM receipt templates – Wells Fargo, Citibank and more
Bank transfer receipt templates – Western Union, Moneygram
Luxury brand receipt templates – Gucci, Rolex, Tiffany's, Saks Fifth Ave
Hardware store receipt templates – Lowes, Home Depot, Ace Hardware
Mobile phone receipt templates – Verizon, Apple, T-Mobile, Cricket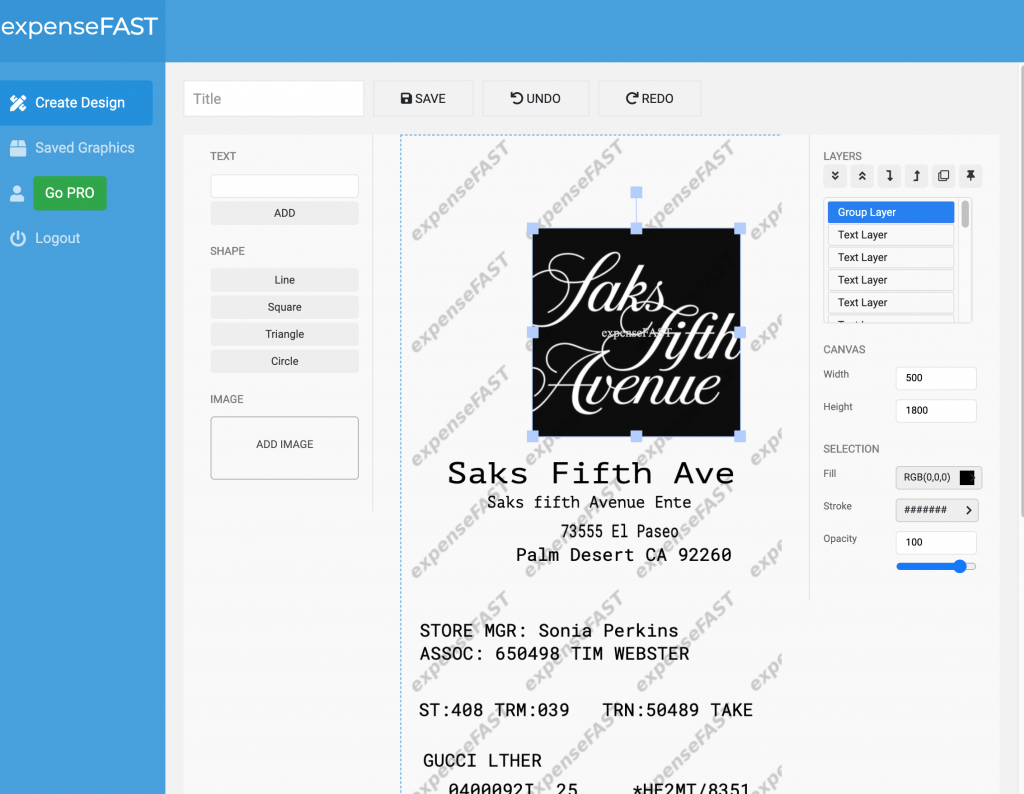 The receipt editor at expenseFAST is intuitive and simple to adjust. It allows updating of any of the receipt features such as receipt font, text placement, logo uploading and more.
ReceiptWriter free receipt maker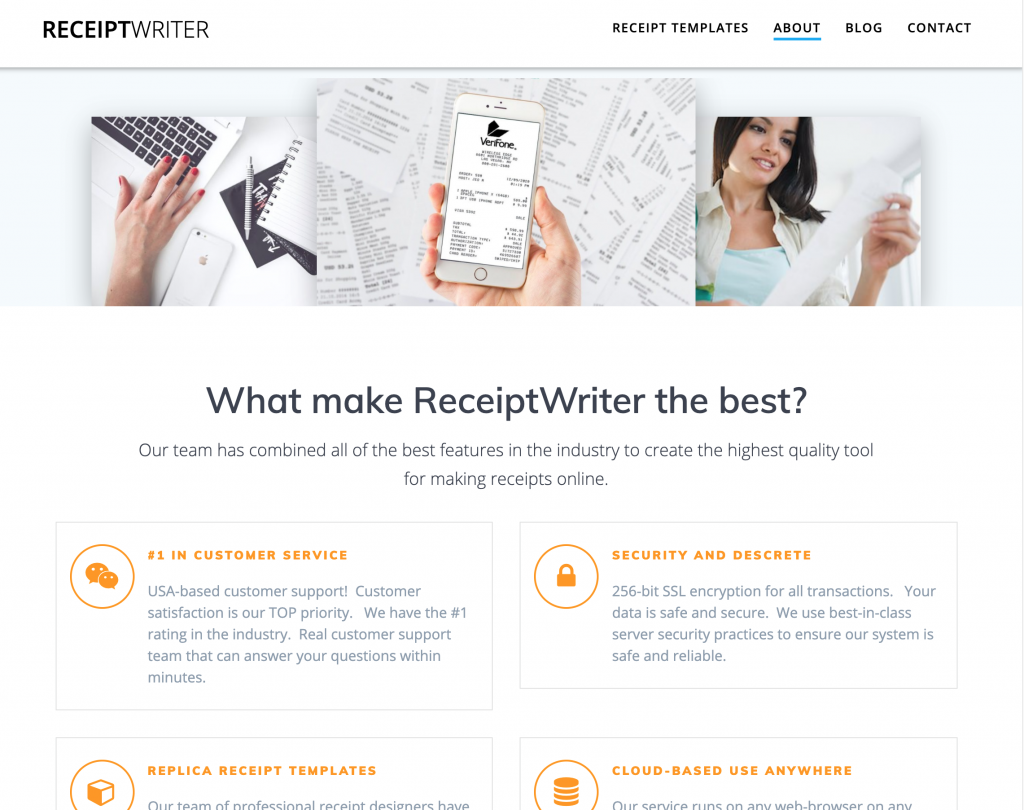 ReceiptWriter.com is a free receipt maker that has many receipt templates available. It features a receipt making interface that instantly displays the receipt on-screen while you edit the receipt. This means you can see your changes to your receipt as you edit the receipt instead of having to click a "Make Receipt" button to view the results. There are several categories of receipts available including restaurant receipts, fast food receipts, taxi receipts and hotel receipts.
Companion Tools for Making Receipts
It is worth mentioning that there are two useful companion tools available for receipt making. These tools are perfect if you need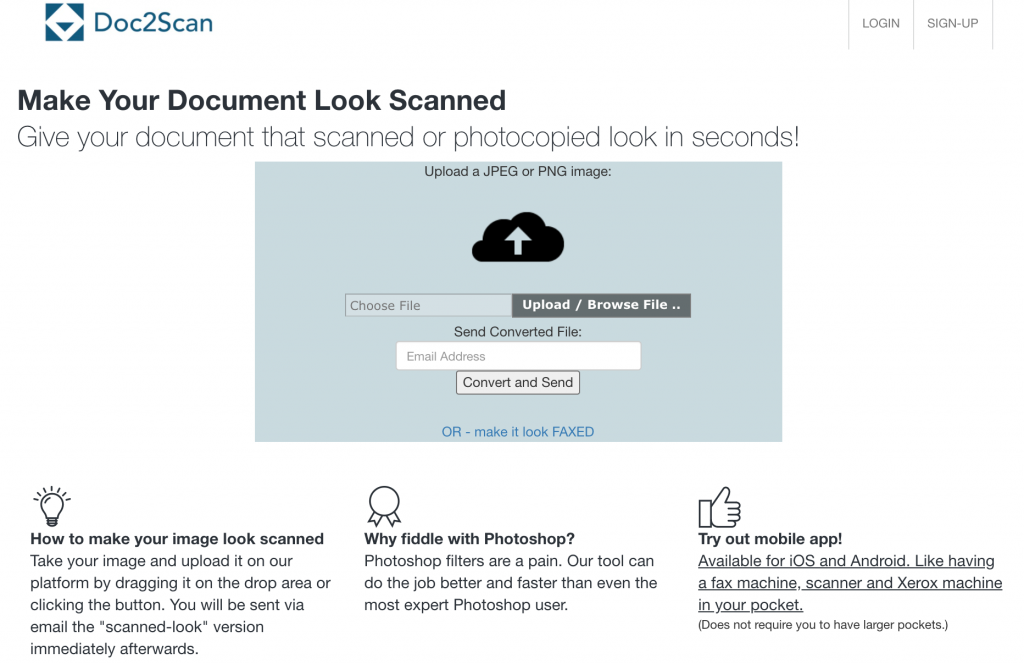 Doc2Scan is an great tool that allows you to take the receipt or invoice you created and make it look faxed, photocopied or scanned. Just upload your receipt generated with one of the tools above and Doc2Scan magically makes the document look like you scanned it. This is useful to make your super crisp digital receipt look more authentic.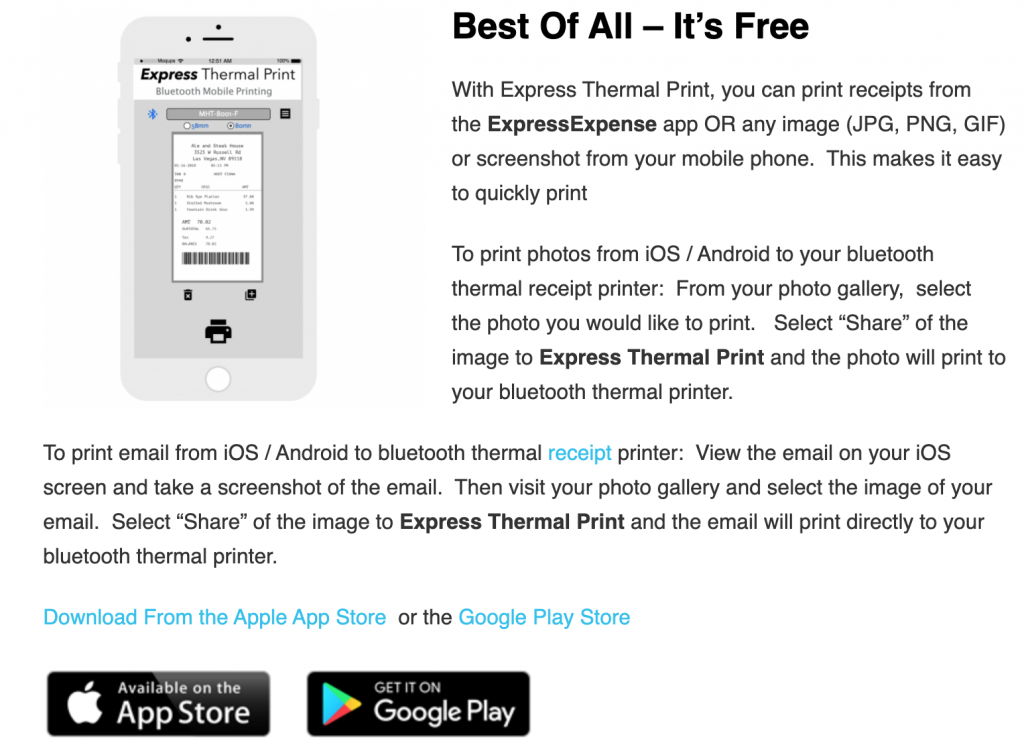 If you need to print your receipt on actual receipt paper, Express Thermal Print is what you need. This app is available for iPhone and Android and gives you the ability to print anything to Bluetooth thermal receipt printers. This app works with both 52mm or 80mm receipt paper. It is the best way to make the most accurate receipt replicas possible.