Express Thermal Print to bluetooth thermal printers.
• Print anywhere from iOS and Android devices for FREE
• Easily print from iOS apps, Photos and more
• Prints JPEG, PNG or Screenshots images
• Uses affordable ($40-80) Bluetooth thermal printers available on Amazon
See Printing Receipts  for more information and supported Bluetooth printers.
Express Thermal Print supports a wide-range of bluetooth printers that utilized standard ESC/POS commands. See list of supported printers.
Get the App!  Download From the Apple App Store  or the Google Play Store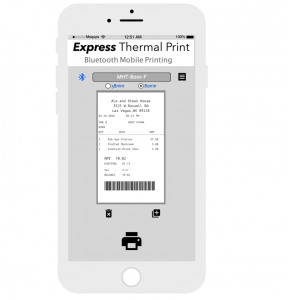 Best Of All – It's Free
With Express Thermal Print, you can print receipts from the ExpressExpense app OR any image (JPG, PNG, GIF) or screenshot from your mobile phone.  This makes it easy to quickly print
To print photos from iOS / Android to your bluetooth thermal receipt printer:  From your photo gallery,  select the photo you would like to print.   Select "Share" of the image to Express Thermal Print and the photo will print to your bluetooth thermal printer.
To print email from iOS / Android to bluetooth thermal receipt printer:  View the email on your iOS screen and take a screenshot of the email.  Then visit your photo gallery and select the image of your email.  Select "Share" of the image to Express Thermal Print and the email will print directly to your bluetooth thermal printer.    Download From the Apple App Store