ExpressExpense has been the top free receipt maker for over 8 years. Yes, that's right! For eight years, our online receipt maker has allowed people from around the globe to create receipts for free from the comfort of their home or office.
We've been able to offer our receipt maker free to everyone because we believe that a free tool is a gateway tool. Giving away several free receipt templates allows our users to "try before they buy." Not only that, it allows us to spread the word about our free receipt maker more easily. Bloggers and ping-backs love to write articles about free online tools and resources. So by offering our receipt maker for free, we've been able to generate a lot of publicity about our service.
ExpressExpense actually started out completely free. The very first receipt was a free taxi receipt template. After a few months, we noticed that people were using this template quiet often and we started receiving requests for other templates. We heard: "Hey, how about a restaurant receipt?" or "Is it possible to make that receipt with a barcode at the bottom?" We listened. We modified our system to support our customers and we always provided a free receipt template option for our customers.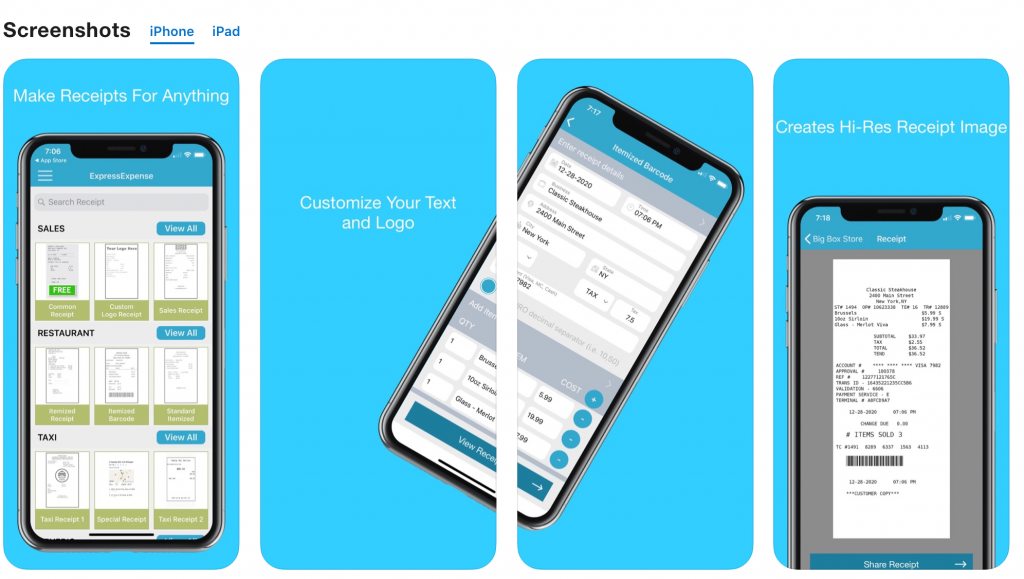 Now we're at a point in internet history where we actually are giving away our tool completely free to iOS and Android users. That's right! We've decided to give our tool away for FREE to all new iOS and Android users. All you have to do is download the app from the app store and choose the "3 Day Free Trial" option. You get full access to our website and our mobile app for 3 days for FREE. If you like our receipt maker, then you can choose to keep the app after the 3 day trial period. Otherwise, you can simply remove the app and the FREE trail is over.
Use our free receipt maker app to make a Venmo receipt or a receipt for a rent payment. It is super intuitive and also integrates to Bluetooth Thermal Printers using our Express Thermal Print app.