This post is also available in: Español (Spanish) 简体中文 (Chinese (Simplified)) हिन्दी (Hindi) Português (Portuguese (Brazil)) Français (French)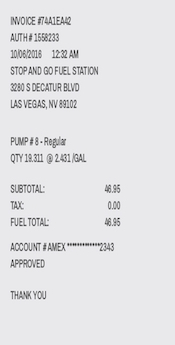 Gas, petro, fuel, go-go juice…. whatever you call it, we have you covered on receipt creation.  We just added two new receipt templates:  Gas Receipt and Modern Gas Receipt.  Each feature the ability to enter the number of gallons of gas and then the cost of gas per gallon.  The Gas Receipt style has a "dot matrix" font and is easy to read.   The Modern Gas Receipt utilizes a newer style font and is cleaner and easier to read.
Remember, not all states in the USA tax for gasoline purchases.  GasBuddy provides a good chart of those states that chart tax on gasoline.  If your state doesn't have sales tax on gasoline, simply enter " 0 " into the Tax field.   Tax is a percentage and is multiplied by the cost of gas.  For example, enter 5.0 to get 5% tax on $50 of gas.  The system will calculate and show $2.50 in tax on the receipt
The request for a gas receipt was based on a suggestion by an ExpressExpress member.  Do you have an idea for another receipt type or any other site improvement you would like to share?  Send us a Comment through our site!  We look forward to hearing from you.